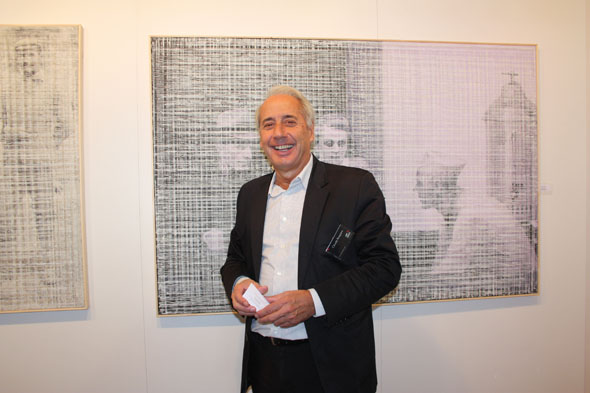 Claude Roegiers (Belgian, American) began painting in California while persuing a career in fashion, which had a strong influence in his work.
After years of Abstract Paintings, which often looked like painted fabrics with geometric forms, he started in 2011, to use images combined with a « warp and weft » effect in order to create his first Image Paintings.   This very personal technique allowed him to explore, in an allegoric way, his world of souvenirs and feelings in order to reinvent and enlarge them.
In 2012, the Travelling Still series was unveiled followed quickly by the Walking series.  Those series uses past and present images, often from Asia, to reveal a distant world, a place on the other side of the « warp and weft ».  Most of the scenes are of everyday life and of simple action but the tonal limitation – black and white or a single color – creates a sense of quiet nostalgia and poetry. The pieces evoke a distant elegance and timelessness, providing snippets of a fleeting reality.
In 2013, the Portraits of Women series was presented. The series was an hymn to women's beauty through the centuries.  The source of the portraits was paintings by the masters to current fashion pictures.  The « warp and weft » effect playing the role of a fake veil.
2015 saw the introduction of the Traveling Art series where paintings of old masters are totally revisited in order to create a contemporary distant image.
Claude Roegiers works in Paris and Miami.
Exhibitions
2012
Mars, Galerie Michel Vokaer, Bruxelles
Mai, Smar't, Aix-en-Provence
Juillet, Art Hamptons, United Gallery
Septembre, Berliner Liste
Octobre, AAF NY, United Gallery Art International Zurich
Décembre, Art 3F Mulhouse
Exhibitions
2013

Janvier, 
New Art Fair, Paris, Klemmer Mills Fine Art
London Art Fair, Galerie Envie d'Art
Février
Palm Spring Fine Art Fair, Villa del Arte Galleries
Palm Beach Art & Antique Show, Villa del Arte Galleries
AAF Brussels, United Galleries
Mars, AAF Hong Kong, United Gallery